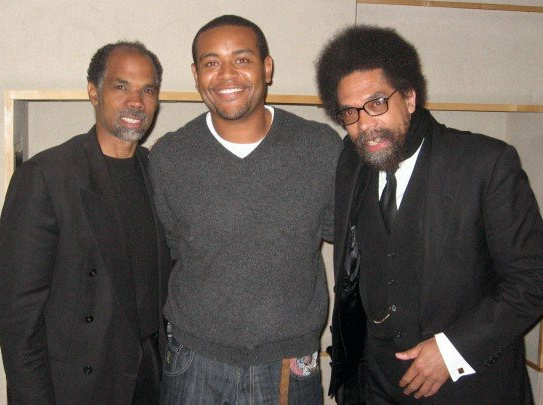 Clifton West (left) Taurean (center) Cornel West (right)
It is with a very heavy heart and still a large measure of pure disbelief that I note the passing of Taurean Joiner at 36 years old on Sept. 5th, 2017. Whew.
Taurean Joiner was a star. No one who met him will ever forget his huge and infectious smile. It was the first thing one noticed and it was a direct beacon tied to the heart that laid inside. Tauren's heart was actually bigger that his famous smile.

It is one thing to say that you could tell in an instant upon meeting someone and that you knew they were a "star". In Taurean's case everyone working at Hidden Beach Recordings knew this kid (at the time) was the star well before any of us met him personally.

Historically, DC and Atlanta followed closely by Chicago were reliable break out markets for Hidden Beach music and offerings. As the epicenter of the Unwrapped project Atlanta was a particular stand out across the label. Nevertheless, something started happening out of Atlanta that seemed to defy even the reliable inflated but reliable projections we came to expect for the region vs. other markets. Pretty quickly we began to become aware of what was really happening there. We had internship satellite programs in most of the major cities but the Atlanta team had developed into a powerhouse. Why? We soon learned it was Taurean Joiner. I can't remember I first learned about his magnetic personality or all the fantastic qualities he possessed as a special and caring being. But, I certainly remember where I was when I learned what he was doing. As the de facto leader of the Atlanta branch this mystery student was organizing monthly pizza parties for the interns to discuss strategy and operations. He cared about his team and they in turned cared about him. Way back in the home office we could see the effectiveness of every promotion he led. Myself and everyone else wanted to meet this guy.

While I might not remember the first time I heard his name I, like virtually everyone else who ever met Taurean, will never forget, when I actually met him in person.

Yes, he was a star - a humble superstar really. This was so clear and first obvious from the first minute of my first encounter with him in person. Even though he was very young and fresh out of college, it was unanimous that we had to hire him. We were astonished by his poise and natural leadership skills. Our mouths were wide open hearing young Taurean describe his motivation and life approach sounding more like a wise octogenarian 4 times his age. In fact, we didn't want to just hire him for an entry-level job we wanted him to run the whole damn intern program world- wide. We flew Taurean into Los Angeles to discuss a permanent offer and the prospect of him heading up the program. We knew Taurean was a super music fan and expected him to be blown away at the opportunity we had devised. We were certainly fooled. After delivering the big surprise we learned he had a plan to go to chiropractic school and to begin practice. Yes, we expected Taurean to be floored and I guess to some extent he was, but it did not go down as expected. Charles Whitfield, Roger Patton and myself and took hours going over his big decision weighing carefully the pros and cons of each. This decision was a tough one. Finally, his love of music (and I suspect with a huge dose of how badly we really did need him) and Taurean joined the Hidden Beach family as a full-time member. He was instantly loved by everyone who crossed his path and created life-long friends during his tenure.
After length of the debate and the degree of the angst involved I don't know what we expected in the long-term. We thought it was quite possible that Taurean could have had a short-fling with the music business and one day decide to go back to his earlier plan of becoming a chiropractor. But one thing we were all one thousand percent sure of: whatever he did, he would make an lasting impact, touch people and whatever he did in life he'd never to be forgotten. Here we were right.

Taurean was taken too soon. I can only imagine our creator having a similar debate as we had convincing Taurean that we experienced when Taurean was told he was being called to heaven. He had a plan. Surely to raise his little daughter with his beautiful wife Jon'a was the highest aspiration on a lofty to do list but he was needed elsewhere more. He will surely be missed on earth.

His going home services will take place Louisville, Kentucky on Sept. 9. at the Zion Baptist Church, 2200 W. Muhammad Ali Ave. with funeral services following. (Visitation 10am-12Pm) with funeral services immediately following thereafter. The burial will take place at Green Meadows Cemetery.

Click here for the official obituary published the Louisville Courier Journal.

To those so inclined to help Taurean's family at this time of need and grieving please note that there are ways to help them directly. Foremost, a college fund for his young daughter, Zoe, is being created via a GoFundMe account bearing her name. This posting will be updated as soon as the link is available.

Taurean died of complications from cancer. This horrible killer claims young promising lives every day, every hour and every minute. This is the second young Hidden Beach star taken by the indiscriminate scruge. Please also consider contributing to Stand Up To Cancer and the many other worthy causes dedicated to fighting this disease.
Steve McKeever